How did the project start?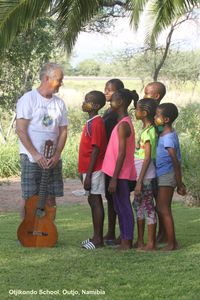 In the summer of 2011, we were working on some great music and drama with the students and staff at Otjikondo School in Namibia. Everyone had a great time - especially the students, so when we were packing to leave it felt like we should be doing something together to keep the music going! We had recorded the students singing lots of local traditional songs. We had the idea that it would be really interesting to get some students in a school in UK to learn some of the songs and then we could blend African and UK students' voices on the final mix. We started work on this back in the UK and I am not sure who first said...'Why only two schools when we could be doing this with many schools?' The idea was born! 
Next we had to find a great song and the pop legend Howard Jones kindly offered to let us use his amazing song 'Building Our Own future'. With the great support from our partner organisations, we got schools around the World involved, giving them free access to MP3 downloads of all the choir resources needed. Around 6 months later the first Voices Around The World global recording was released and suddenly 2000+ youngsters who had participated became 'mini popstars!.
After the initial success in releasing 'Building Our Own Future' we decided to continue and Howard again came forward with another amazing song -  'Unshakeable.' This was released in 2013, breaking records with nearly 4000 voices from 42 countries joining in the release!