Fundraising To help our charity work in Tanzania 
So far, over the last two years, VATW has contributed to the work of helping the development of St Mary's School in Tanzania. Here are some of things that have happened: 
Steering group (including VATW) formed to support the school's development 
Two new classrooms built 
Avocado trees extensively planted – to help agriculture and sustainability in the project by linking up with the people in Njombe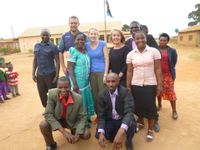 Three Teachers 
From Bengeworth School, UK 
Visiting Njombe to work with staff 
 
​
Three UK teachers went over to the school in October 2016 and spent two weeks providing training for the teachers there, helping with current development planning. While there, they recorded last year's song 'Lighting Up The Flame' with the children. VATW provided 20 MP3/4 players for the school to help the process of learning this and other songs. 
£3,000 raised by VATW downloads and activities since last September – now being directed at building sports areas outside the school and providing sports equipment (very little in existence currently) 
Njombe Children learning to sing Lighting Up The Flame, which they went on to record for us! 





Join us with boosting the fund-raising for St Mary's School in Njombe. Help these children – many of whom have been orphaned by the HIV virus which is rife in this part of Africa. 
Many amazing VATW schools have agreed to run a fund-raising 'Live Aid For Tanzania' music concert during 2017, join this exclusive club of fantastic schools and run your own fund-raising concert. 
We hope that you will feel like joining in this very worthwhile cause. How amazing is it for our students to sing their hearts out at the same time as raising funds to help these very needy young people in Njombe. If you wish to join in with us on this please drop a line to info@voicesaround.com and in return we will provide you with lots of extra free choir and display resources. Let's all make 2017 an AMAZING YEAR for the Njombe children!