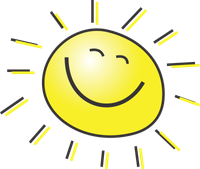 Thank you for some amazing recordings! Wacky Video/Photo Time! 
Thanks to all of those of you who have sent in some great vocal recordings, pics and videos. The quality of singing is incredibly high this year!! 
The 'Sunshine' theme definitely seems to have evoked lots of fun and good times judging by the photos and video clips sent in. We have seen some hilarious poses, really creative dance moves and lively singing actions. There is a distinctly 'wacky' sense to some of the clips and pics and lots of laughter going on. We think this is great! If it's not too late to say, and if you haven't yet taken your pictures and videos...please please please make them as much fun as possible. LET'S MAKE A VIDEO TOGETHER THIS YEAR that will brighten up the lives of everyone that watches it. 
We like to think that enjoyment is what the VATW project is all about! Look forward to receiving all of the great work from your students! 
Laurie and the VATW team